The Death of Jane Lawrence by Caitlin Starling is a horror story built on a foundation of traditional gothic elements. The novel opens with Jane Shoringfield, a pragmatic and mathematically gifted woman who negotiates her own marriage of convenience to Dr. Augustine Lawrence to ensure her continued security and independence. The good doctor only has one request—that Jane spends her nights in a room above his surgery, and he in his labyrinthine home at Lindridge Hall. But that's easier said than done, and Jane finds herself in Lindridge Hall on her wedding night, where she quickly discovers her new husband is hiding disturbing secrets about his past. That's only the beginning of her troubles.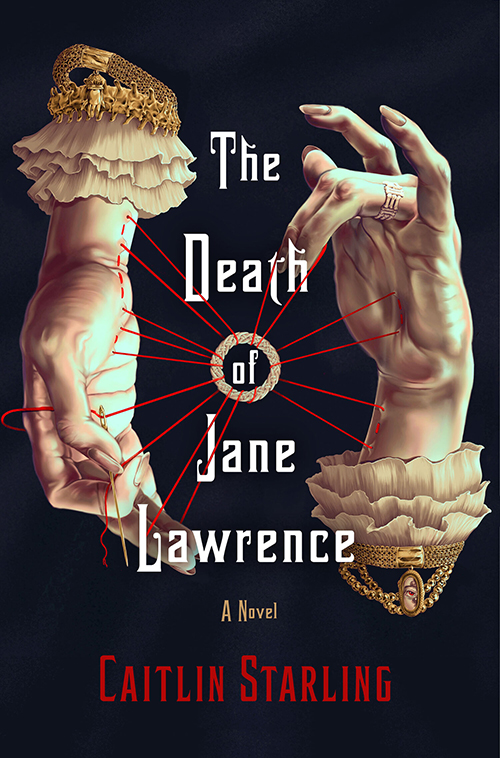 A problem solver by nature, Jane is doggedly determined to save her husband from the vagaries of his eerie family home, even as they become more and more unexplainable. Regardless, she persists, and it is her resolve that makes her relatable if not likable. The most interesting part of Jane's character arc is the way she questions her own monstrousness from the very beginning. At first, it's because she fears she's focused too heavily on logic over emotion, but as the story progresses, Jane succumbs many times to emotional whims, and interestingly enough, it is only then she becomes unrecognizable. Was she a monster before? Or is The Death of Jane Lawrence the origin story of the monster she becomes?
Starling's use of magic as a metaphysical concept that challenges Jane's logical and orderly view of the world is fascinating. As Jane methodically deconstructs and revises what she knows to be true, readers settle into an understanding of how magic is meant to function in Starling's novel. Particularly creative is Starling's use of the concept of zero as "everything and nothing," which serves as the backbone for her depiction of magic. However, I wish Starling had done more to explain the greater role magic plays in her fictional world and why physicians, in particular, practice it. Perhaps it's meant to parallel the arguably god-like role they take in attempting to cure or reverse injuries and illnesses. Even so, considering Jane manages to learn magic, surely physicians aren't the only ones who practice. How common is magic in this world? It's difficult to tell, given Jane's humble upbringing.
Starling's prose is melodramatic and overwrought, which at first does wonders to establish the picturesque scenery of a gloomy little town in an alternate version of post-war England. However, this strength becomes a weakness during the second half of the novel, where it often feels as though readers could skip pages at a time without losing a sense of the overall plot. The extremely redundant nature of the seven-day spell Jane casts at one point was particularly tedious to read. In general, the prose is beautiful, the details unsettling and gruesome and delightfully spooky, but they're truly unnecessary after a certain point. Kill your darlings, as they say.
The final "revelation," which occurs in one particular chapter near the end of the novel, closes the loop with regards to several plot points that seem misleading or arbitrary until readers are plunged into that chapter. It is deeply satisfying…until the novel just keeps going! The Death of Jane Lawrence would've been so much spookier if everything had ended right after the revelation. I almost thought that's where it all ended until I turned the page! Nevertheless, the actual ending is unsettling in its own right. In proper gothic fashion, readers reach the conclusion and wonder how much of it was real and whether the supernatural elements can or should be rationalized. That's one of my favorite elements in gothic literature, and Starling executes it so well.
The Death of Jane Lawrence is a creative take on gothic literature and boasts some of the creepiest scares I've seen recently in a novel, especially towards the beginning, when suspense is at an all-time high. I couldn't walk past reflective surfaces at night for nearly a week without fretting a little! However, the dense prose and excessive, rambling explanations to validate the pseudo-science behind the magic only disorients the reader and makes the second half of the story drag. Despite my misgivings, it is worth checking out if you enjoyed Silvia Moreno-Garcia's Mexican Gothic, yet another novel that puts a modern spin on the horror-gothic mash-up with a deliciously slow and suspenseful exploration of the uncanny, or other familiar gothic stories like Edgar Allan Poe's "The Fall of the House of Usher," Edith Wharton's "The Lady's Maid's Bell," or Henry James' The Turn of the Screw.
Thank you to NetGalley and St. Martin's Press for sharing an advanced reader copy of this book in exchange for an honest review.