Counting Down with You by Tashie Bhuiyan is a can't-miss young adult contemporary romance. When Karina Ahmed's conservative parents visit Bangladesh for a month, she uses it as a chance to test their strict rules. She starts by tutoring Ace Clyde, resident bad boy. Her parents would disapprove of her being alone with a boy, and they'd frown on her wasting time with a non-STEM subject like English. But those are the least of her concerns when Ace tells everyone Karina's his girlfriend! When her fake romance with Ace isn't so fake anymore, Karina must decide if she wants to return to her sheltered existence at the end of the month or embrace the people, dreams, and ideals that spark the fire in her soul.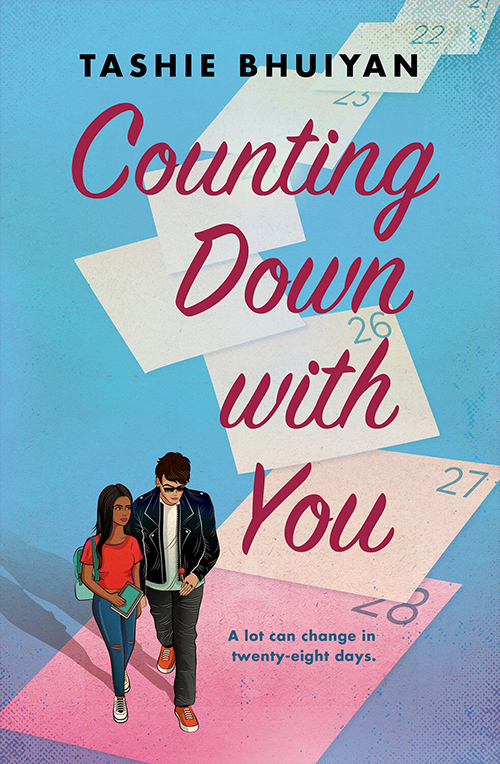 The romance between Karina and Ace is so endearing and sweet, and it subverts what you might expect to see from characters like them. In spite of her sheltered upbringing, Karina is a lionheart, so earnest and brave; and Ace, misunderstood for his bad boy reputation, is deeply thoughtful and has a gentle heart as large as his sweet tooth. It's the romance you know you deserve, no matter your age—one where your partner sees you, where you meet each other in the middle, and help each other grow. The tenderness with which Bhuiyan builds their relationship is enthralling and invites readers to remember the magic of first love.
The wholesome heart of the novel rests with Dadu, Karina's grandmother, a nurturing, open-minded influence who truly just wants Karina's happiness. As enchanting as it'd be to have adorable Ace Clyde doting on me, I'd rather have Dadu's unyielding support and truly unconditional love, particularly when I'm feeling insecure or anxious. She's a comfort character if there ever was one, but Dadu also illustrates the importance of evolving traditions and expectations as the times change. Her cultural and religious beliefs are not anchors that weigh her down; instead, they function as a north star that guides her towards the right decisions to best care for her family. Her many conversations with Karina validate the way I lead my own life as a diaspora kid who will never quite fit into either of the cultures I claim as my own, so I must carve out my own path daily.
Bhuiyan's careful attention to creating nuanced, fully realized side characters is a boon to her world building. Karina's best friends, Nandini and Cora, could never be mistaken for one another, even though they're rarely apart from one another when Karina interacts with them. Nandini is steady and pragmatic, often acting as the mother hen of the group, while Cora is a chaotic wildflower with major "let me at 'em!" energy; their characterizations are informed by their respective cultures and identities. Together, they form a diverse girl gang you wish could be yours. Karina's support network is unrivaled, but it is so necessary given the stress she experiences with her mental health and family dynamics.
Karina's struggle to balance what she wants with what her parents want for her is the element of this novel that speaks to me most. To a certain extent, everyone can relate to this predicament, but it's a particularly scarring experience in South Asian diaspora communities, where careers rooted in math/science are championed above all. English or literature, while important merely for their ability to tank a GPA just as well as any other subject, is often viewed as a hobby or side interest at best—certainly not a viable career option. But Karina's deepest desire is to major in English, and she spends much of the novel conflicted over disappointing her parents or doing what she knows is best for her. Fretting over a college major might seem silly, but not when you consider the western world demands sixteen-year-olds map out the rest of their lives before they've even finished high school. Throw in the customs, norms, and parental expectations from a second culture, and you've got double the anxiety.
Speaking of which, Karina occasionally suffers from anxiety attacks, and they don't simply vanish when narratively convenient. During a particularly jarring episode, Karina runs out of class because she needs to physically distance herself from a situation that's triggered her. She's still figuring out the best techniques to help her manage her anxiety, and Ace and her friends are so patient and open to learning how to make the situation easier for her. It's a wonderful example of how to support a friend who might be experiencing any of a number of mental health issues.
I relate to so much of this Own Voices story because it features a Muslim Bangladeshi-American character whose culture, family dynamics, food, language, religion, and worldview so closely mirror my own teenage experiences. Karina navigates a hybrid existence as a person who loves her Bangladeshi customs but was raised in a world full of American traditions. It's so challenging at times to know which side of the divide is the right side to be on, depending on who you are and what you need. I even had that moment where I had to tell my parents STEM just wasn't for me (I ended up getting a PhD in English literature, so it worked out!). The parallels between my life and Karina's experiences still have me reeling, and for that reason alone, I need everyone to read this book. The Own Voices genre is just magic, y'all. I'm so glad it exists.
Counting Down with You is a striking debut novel that employs the fake dating trope to explore themes about family, culture, and self-actualization. It's a quick read with memorable characters, witty banter, a unique mix of Bangladeshi cultural and family dynamics, and a dreamy teen romance that's sure to brighten your day and melt your heart. You deserve to read this book. Make it happen!
Thank you to the author, Tashie Bhuiyan, for sharing an advanced reader copy of her book in exchange for an honest review.
---
Counting Down with You at a glance
Book details
Title: Counting Down with You
Author: Tashie Bhuiyan
Publisher: Inkyard Press
Release Date: May 4, 2021
Page Count: 464
Synopsis
In this sparkling and romantic YA debut, a reserved Bangladeshi teenager has twenty-eight days to make the biggest decision of her life after agreeing to fake date her school's resident bad boy.

How do you make one month last a lifetime?

Karina Ahmed has a plan. Keep her head down, get through high school without a fuss, and follow her parents' rules—even if it means sacrificing her dreams. When her parents go abroad to Bangladesh for four weeks, Karina expects some peace and quiet. Instead, one simple lie unravels everything.

Karina is my girlfriend.

Tutoring the school's resident bad boy was already crossing a line. Pretending to date him? Out of the question. But Ace Clyde does everything right—he brings her coffee in the mornings, impresses her friends without trying, and even promises to buy her a dozen books (a week) if she goes along with his fake-dating facade. Though Karina agrees, she can't help but start counting down the days until her parents come back.

T-minus twenty-eight days until everything returns to normal—but what if Karina no longer wants it to?
Add Counting Down with You to your shelf