Gutter Mage by J.S. Kelley is a captivating urban fantasy set in a world run completely on magic…but at what cost? It's a question worth considering, but not one for outlaw mage Rosalind "Roz" Featherstone, whose only concern is the next job that can line her pockets with coin, fill her cup with drink, or lure someone willing and eager to her bed. So when Lord Edmund's infant son is abducted, and Roz is tasked with looking into the matter in exchange for the biggest payout of her life, she jumps at the opportunity. But as she works to solve the case, Roz uncovers a dark plot that could change her society—and magic—forever.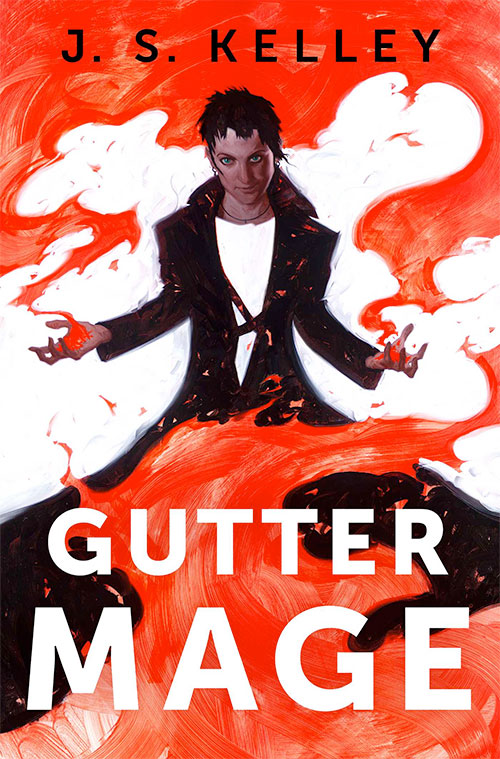 Roz is a dynamic main character with a few different levels to her, which makes her both relatable and exciting. She karate chops conventional gender norms in the face, actually karate chops baddies in the face, and has absolutely no filter—resulting in some of the funniest and crudest lines I've ever read. She proves several times over that you'd want her around when things get rough, but in spite of that, she's a bit of a loner and doesn't form many personal relationships outside the one with her partner and friend, Lysander. Roz has been outcast from her magical community as a result of a traumatic incident from her past, where a former mentor assaulted her, and then tried to use her to access a new form of magic. She struggles throughout the novel to process the lingering effects of that event since her mentor ended up dying, and Roz was the one who acquired the new magic. She essentially relives her trauma every time she uses it, and it becomes an interesting study of owning her trauma versus quite literally being controlled by it.
This is a character-driven book, and the plot moves forward with the introduction and interaction of new characters—a little like a video game. Secondary characters reveal information, help Roz and Lysander with details, or pose as obstacles they must overcome. Their NPC-like nature made Gutter Mage feel oddly interactive, like the reader is along for the ride as Roz and Lysander work on their case.
What I didn't love so much was the main villain. His world-ending, apocalypse-producing actions were based merely on a hunch! It was a plot 15 years in the making, and in the end, it only takes one person to foil the entire convoluted thing. His motives are never really clear, and his actions simply don't make sense. For all his monologuing, I thought the big bad villain arc would have more meat on its bones, and I thought it'd be a little bit harder to take him down!
By the end of the story, many questions are still left unanswered: An especially prominent character simply vanishes without any explanation or concern, we never get a firm answer on Roz and the identity crisis she suffers about halfway through the book following a rather startling revelation, and we have no indication if there will be any lasting consequences resulting from the villain's actions. In spite of the main arc involving Lord Edmund and his missing baby being resolved in this book, I felt the novel was missing a satisfying resolution and left entirely too many loose ends.
Overall, Gutter Mage is a quick and easy read, and I firmly believe that's largely because Roz is so engaging. Kelley provides an intriguing introduction to a fascinating new world and characters, and I could picture future books really expanding Roz's story—particularly the lore involving magical spirits. While there's no news of a sequel on the horizon, don't let that stop you from diving into this fantasy romp. It's a great choice for those seeking something adventurous and fun with a dash of the unconventional.
Thank you to NetGalley and Gallery / Saga Press for sharing an advanced reader copy of this book in exchange for an honest review.