Anxious People by Fredrik Backman is one of the quirkiest, most delightful novels I've had the pleasure of reading. It's equal parts humorous and tragic, bewildering and familiar—never just one thing by design. This locked-room mystery opens with a failed bank robbery at a cashless bank (hence the failure), followed by an accidental hostage situation at an apartment viewing from which the hostage-taker/would-be bank robber vanishes, leaving father-son police duo Jim and Jack so perplexed and out of their depth that they Google how to figure out this crime that didn't actually take place, using testimony from eight hostages with wildly different, unhelpful takes.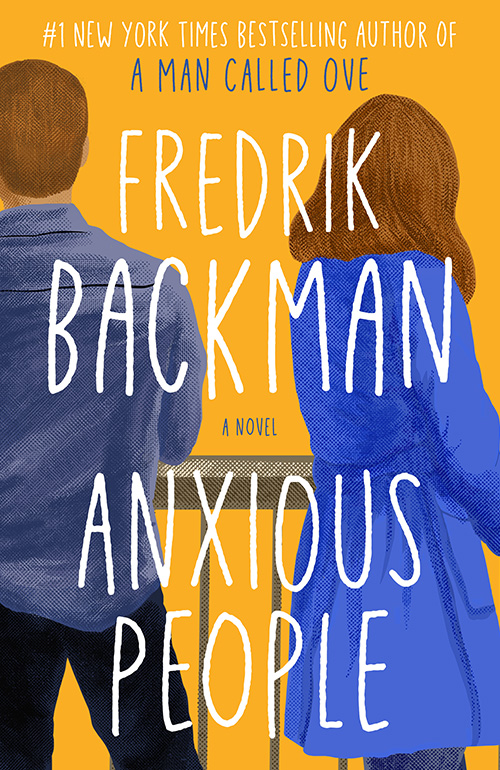 The hostages include Zara, a cynical bank manager emotionally paralyzed by grief and depression; retired couple Anna-Lena and Roger, who flip apartments to avoid addressing problems in their marriage; pregnant lesbian couple Julia and Ro, who struggle with the weight of their anxieties about parenthood; achingly sweet and grandmotherly Estelle, nursing a deep and familiar hurt; the hilariously focused real estate agent who, in spite of the hostage situation, is most concerned no one appears to show appropriate interest in the apartment or her cleverly named real estate agency, House Tricks; and, finally, poor Lennart, who somehow ended up in his underwear, trapped in a giant rabbit's head, and a little regretful he's wound up in this situation but along for the ride, regardless.
Anxious People is told through interweaving narratives that reveal how seemingly unrelated characters from varying walks of life are connected—a truth that echoes throughout the major themes in this novel. Backman employs a disarming charm and wit to broach heavy topics such as suicide, survivor's guilt, and depression with a fresh and welcome frankness that feels safe and invites discussion. Zara, one of the most abrasive personalities in the bunch who literally carries around her anxiety with her, ended up being one of my favorite characters because Backman is able to demonstrate through her that we should all be so kind as to forgive ourselves for past transgressions.
Given the novel is set in a small Swedish town near Stockholm, the concept of "Stockholm Syndrome" seems almost unavoidable, especially because it is derived from the psychological bond formed between a captor and his hostages during a botched bank robbery that took place in Stockholm, Sweden in 1973. Cleverly, Backman hardly mentions it by name, which prevents readers from noticing as they fall prey to a version of it while they commiserate with often unlikable yet sincere characters just trying their best to make it from one day to the next. Any one of us could've been trapped in that apartment. In fact, any one of us could've been that bank robber.
Backman strives to cover the full, messy spectrum of emotions that accompany uncomfortable experiences like anxiety, guilt, and grief, which allows him to winnow out poignant messages about forgiveness, hope, and love. The most striking result of his storytelling style is it reflects truths about ourselves we recognize only once we identify them in Backman's characters. That is the point, of course.
Anxious People reminds us we are never alone in shouldering our burdens, even though it might feel that way sometimes. Through humor and heartbreak, Backman weaves a thought-provoking story that ultimately impresses on us the urgency of exercising kindness, compassion, and patience towards others and, most importantly, towards ourselves.
---
Anxious People at a glance
Book details
Title: Anxious People
Author: Fredrik Backman
Publisher: Simon & Schuster
Release Date: September 8, 2020
Page Count: 349
Synopsis
Viewing an apartment normally doesn't turn into a life-or-death situation, but this particular open house becomes just that when a failed bank robber bursts in and takes everyone in the apartment hostage. As the pressure mounts, the eight strangers slowly begin opening up to one another and reveal long-hidden truths.

First is Zara, a wealthy bank director who has been too busy to care about anyone else until tragedy changed her life. Now, she's obsessed with visiting open houses to see how ordinary people live—and, perhaps, to set an old wrong to right. Then there's Roger and Anna-Lena, an Ikea-addicted retired couple who are on a never-ending hunt for fixer-uppers to hide the fact that they don't know how to fix their own failing marriage. Julia and Ro are a young lesbian couple and soon-to-be parents who are nervous about their chances for a successful life together since they can't agree on anything. And there's Estelle, an eighty-year-old woman who has lived long enough to be unimpressed by a masked bank robber waving a gun in her face. And despite the story she tells them all, Estelle hasn't really come to the apartment to view it for her daughter, and her husband really isn't outside parking the car.

As police surround the premises and television channels broadcast the hostage situation live, the tension mounts and even deeper secrets are slowly revealed. Before long, the robber must decide which is the more terrifying prospect: going out to face the police, or staying in the apartment with this group of impossible people.

Rich with Fredrik Backman's "pitch-perfect dialogue and an unparalleled understanding of human nature" (Shelf Awareness), Anxious People's whimsical plot serves up unforgettable insights into the human condition and a gentle reminder to be compassionate to all the anxious people we encounter every day.
Add Anxious People to your shelf