The Shadow in the Glass by J.J.A. Harwood is a dark, gothic retelling of Cinderella set in Victorian England. After Eleanor Hartley's wealthy benefactor dies, Mr. Pembroke, her new guardian, relegates her to service as a maid in the same household where she was being trained to be a lady. Now she spends her days doing grueling, thankless work while also protecting herself and the younger maids from Mr. Pembroke's drunken advances. The library is her only respite, where she finds comfort and hope locked inside books. One night while reading about Doctor Faustus, a mysterious figure appears to offer Eleanor seven wishes to change her life. The price? Only her soul. What could possibly go wrong?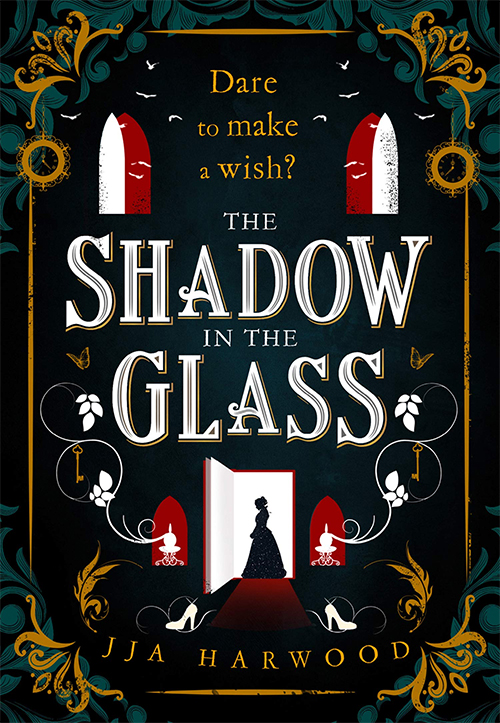 Despite the fact that Eleanor delights in the magic, mystery, and escape her favorite fantasy novels offer, her real life simply does not compare, so she's understandably hesitant to believe her wishes might actually come true. She tests the waters by wishing for the fabled glass slippers first, and in doing so, discovers each wish has a price: life. Horrified by this revelation, Eleanor wants to back out of the bargain, but it's too late. She decides not to make anymore wishes, but a number of unfortunate events force her hand. Instead of making extravagant wishes that might truly change Eleanor's circumstances, her wishes end up being relatively small, focused only on individual aspects of immediate, arguably temporary problems.
One of my favorite parts of reading this novel is critiquing Eleanor's wishes: Should we fault her for her surgical approach to wish-making? Would it have been better to make one giant wish that might truly help Eleanor to rise from her station? Maybe. But these questions reveal far more about the reader. Eleanor's sold off her soul in pieces, and we're compelled to wonder how she might have done it better. How deliciously horrifying to implicate us in her descent!
Eleanor rationalizes her actions, even as they hurt innocent people, and she's repeatedly stunned to learn people don't actually like her much once they get to know her true nature. She claims all she wants to do is protect her friends, liberate her fiancé from those wishing to control him, and make her way in society as a respectable lady, but she never actually manages to do any of it successfully, in spite of all her wishes. She constantly insists she's a good person who deserves good things, especially as her decisions become increasingly chaotic and morally ambiguous. In proper gothic fashion, other events that occur over the course of the story can explain the wishes granted, so at certain points, I wondered if there was even a fairy godmother at all. Perhaps the dark spirit that appears to Eleanor is actually a reflection of her own soul.
They say the best villains view themselves as the heroes of their own stories, and without even realizing it, Eleanor transforms into a villain. This forces us to reassess our read on her: Can we still root for her? Are we obligated to hope for her redemption now? Certainly, Mr. Pembroke is a vile character, and a couple young women in the novel are despicable enough to be wicked stepsisters, and the fairy godmother isn't sweet and doting at all, but what does it mean when our hero can be lined up in their ranks? And what does it mean when we want her to triumph anyway?
A twisted fairy tale told in seven parts, The Shadow in the Glass is a fast-paced fantasy with familiar characters and themes cast in a dark new light. Enjoyable, surprising, and engaging, Harwood's spin on Cinderella is sure to stay with you. Eat your hearts out, Brothers Grimm!
Thank you to NetGalley and HarperVoyager for sharing an advanced reader copy of this book in exchange for an honest review.