Ace of Spades by Faridah Àbíké-Íyímídé is a terrifying young adult thriller that crosses Pretty Little Liars with Get Out. Chiamaka and Devon, the only two Black students at their private school, begin their senior years as prefects, putting them both in the running for valedictorian. But when Aces, an anonymous bully, starts to release damaging secrets about them both, they must figure out who's targeting them before their bright futures are completely out of reach. It isn't long before Chiamaka and Devon discover the conspiracy isn't as simple as locating one random bully. Their entire high school perpetuates a system of racism built to tear them down.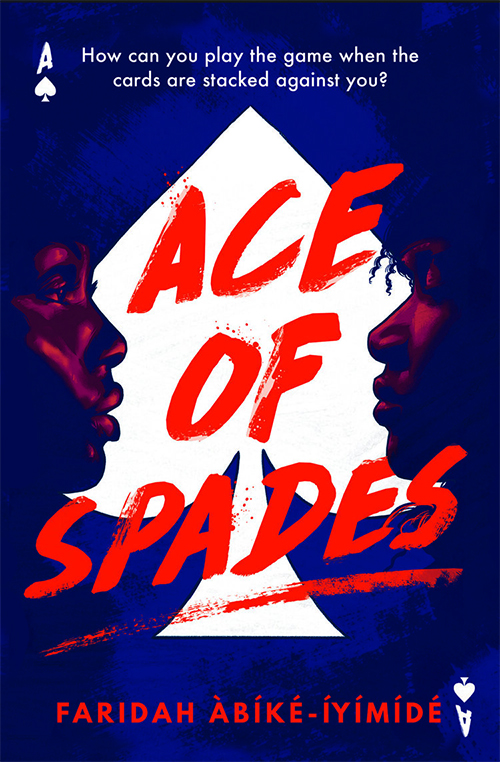 I have to be honest and say I groaned a bit at the Pretty Little Liars premise before I started reading Ace of Spades because what's interesting about that? Beautiful people misbehaving at a fancy school with enough networks and funds to ensure continued success and wealth for all who walk those hallowed halls? Yawn. But I've never been more pleased to be proven wrong.
Àbíké-Íyímídé masterfully builds tension and suspense as Aces preys on her characters, slowly tearing them down, making readers just as anxious waiting on the next bombshell.And just when you think you've got it figured out, you realize the great mystery is you weren't thinking big enough. This novel exists at the intersection of race, class, gender, and sexual politics, and it sheds light on the nefarious microaggressions society uses daily to plant seeds of doubt that make us question the existence of any of it. Protagonists Chiamaka and Devon are complex and interesting, and they're so much more than they appear on the surface as Àbíké-Íyímídé carefully shows us the way each character has built themselves up over the years, and how a prickly disposition, an aloof personality, or something as simple as a hairstyle is actually armor. And it's a good thing, too, because it turns out they needed it.
The most striking part of this novel is the doubt the protagonists experience, particularly when they guess quite early in the plot that institutional racism is at the heart of the conspiracy against them. Both Chiamaka and Devon dismiss the possibility immediately, given the reality of racism is so prevalent in their lives that it seems almost too obvious a threat to single out since it touches every part of their lives already. Chiamaka's family is wealthy, yet she hides the parts of herself that highlight her Nigerian-Italian heritage in order to change herself into what she believes will get her ahead in a society with predetermined ideals for success and worth, while Devon strives to escape the parts of his upbringing and sexual identity that he believes will prevent him from achieving his dreams. Both characters have spent so much of their lives fighting to escape the pitfalls of systemic racism that they blamed themselves—their past actions, sexual preferences, and histories—before ever considering they were victims of a system built specifically to target people who look like them, who dare to be great.
Ace of Spades never shies away from how all-encompassing and rotten the system is at its very core, no matter how much the characters or even the readers may want to reject or deny that horror. That thought distortion is a product of the very system. And still, I found myself constantly taking a step back to wonder if every person and thing involved in the conspiracy was too much, but really, it's not. The novel features an abundance of bad actors, like the truly insidious Ace of Spades campers and the Niveus students; some, like Belle and the legacy families, are guilty of continuing to reap benefits from established systems even though they recognize it's wrong; and others, like Terrell, are pulled into these larger plots because other parts of the system (like health care) already hold them hostage. In spite of their varying levels of involvement, every character played a part in propping up the current systems that perpetuate harmful, outdated narratives. That only means everyone must work together to dismantle and rebuild institutions that perpetuate systemic racism so that they no longer disadvantage some people in order to elevate others.
When a novel includes an epilogue, I'm typically already done with the story and seldom feel the need for follow-up, but Ace of Spades surprised me here as well. Without spoiling the end, I'll only say that I like how all the problems Chiamaka and Devon identified throughout the course of the novel did not simply vanish. One victory alone cannot so easily vanquish injustice and inequality kept alive by hardened roots that have been strangling our society for centuries.
Ace of Spades is an explosive debut from Àbíké-Íyímídé that uses the high school landscape as a model for the very institutions that continue to shape the world after graduation. If at times it seems sensational, that's only because you've allowed yourself to forget it's all real. It's a quick read, both eye-opening and validating, and an excellent way to encourage discussions among young adult readers about the injustices of systemic racism and the importance of fighting against it.
Thank you to NetGalley and Feiwel & Friends for sharing an advanced reader copy of this book in exchange for an honest review.